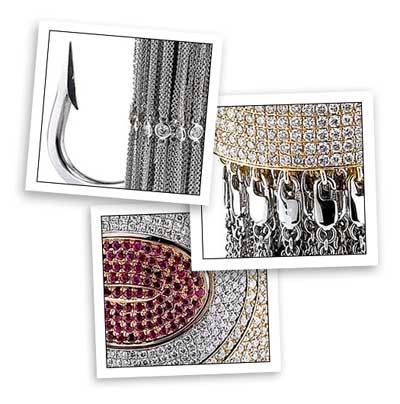 In this week's Detour Chris fishes the Boston Harbor with Paul Jacques and Daniel Bruce. Fishing enthusiasts and diamond-lovers, I'm sure, are familiar with the million-dollar lure. Made to attract the gold-diggers of the sea, the lure's made of both gold, platinum and encrusted with over four thousand diamonds and rubies, weighing in at 100 carats total. (I know, right?)
Want the luxury but none of the bling? Nomads of the Sea offers several high-end fishing and whale-watching expeditions in and around Chilean Patagonia. The Nomads' mothership, The Atmosphere, houses 28 guests and 32 crew members.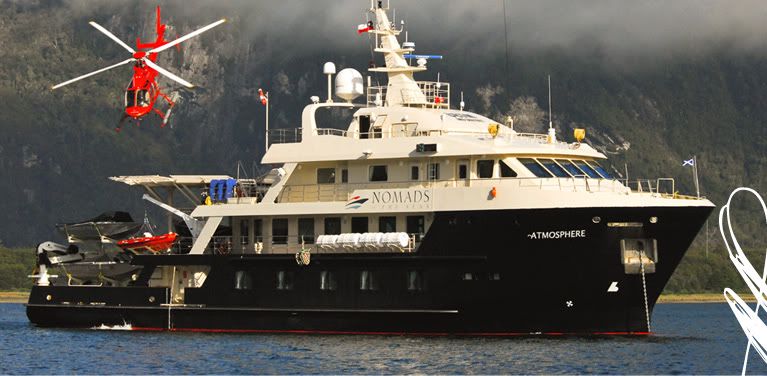 The Atmosphere can deploy small fleets of custom Jetboats and a Bell 407 helicopter. If you're not in it for the fishing, you can take advantage of the Spa (which offers thalassotherapy in addition to standard treatments) or the Chilean gourmet cuisine ("a unique and yet unexplored gastronomy featuring a wide variety of native ingredients found in the southern part of Chile"). Now, that's what I call a fishing trip. ($15-25,000)
Looking to fish a little closer to home? Be sure to tune in tomorrow at 7:30 on NECN to see Chris Talanian, Paul Jacques and Daniel Bruce head out for the high seas.
If you enjoyed this article, please consider sharing it!
MASTHEAD

EXECUTIVE EDITOR
Terri Stanley

MANAGING EDITOR
Jan Saragoni

EDITOR AT LARGE
Carol Beggy


DESIGN DIRECTOR
Harry Koffman

CHIEF FASHION CORRESPONDENT
Tonya Mezrich

CONTRIBUTORS
Joane Nelson
Anna Paula Goncalves
Jason Margaca
Steven Tackeff
Steve Defillippo
Kennedy Elsey
Christy Cashman
Emily Rooney
Kathy Benharris
Jeff Lahens
Scott Kearnan
Zoey Gulmi
Ben Illis
Kathleen Connor
Sonig Varadian
Will Shank
Tony Corey
Richard Baiano

VIDEOGRAPHER
V-Neck Media

ABOUT THE SB BLOG

styleboston is now an online community of curators covering a variety of subjects.

styleboston online provides up-to-the-minute editorial content with a lineup of vibrant contributors covering the latest trends in fashion, art, entertainment, food, travel, and design. This newly revved up platform, an edgy online version of the television show, is quickly becoming the definitive online lifestyle guide for savvy Bostonians. styleboston online is your go-to digital lifestyle connection.

To view styleboston the television show – visit styleboston.tv.

JOIN US

Interested in writing for styleboston? Send your resume and writing samples to blog@styleboston.tv.